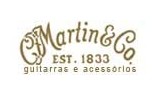 Martin&Co
C.F. Martin & Co. has been known worldwide for creating quality instruments for more than 180 years. The company continues to innovate and over the years has introduced techniques and features that have become industry standards, including X-bracing, 14-fret guitar and the dreadnought model. Martin guitars are handcrafted using combinations of new design and techniques, in addition to those introduced by the company's founder.

Martin is also known for producing high quality guitar strings that it has been manufacturing since 1970. They include Martin SP® Lifespan®, the fastest growing line in the industry, the Retro Strings line used by Tony Rice and Laurence Juber, and the Martin SP Acoustic and SP Flexible Core lines, which use an industry-leading core wire for fine tuning.

Martin guitars and chords are choices for musicians from all over the world, from beginners to rock, pop, country, folk and bluegrass icons.
Read more
Show less
No results found for your search.